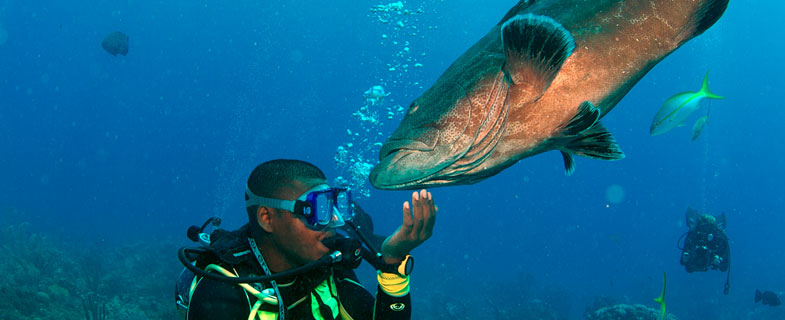 Scuba Lesson
Whether you are interested in trying scuba for the first time, continue your education as a diver or make a career this is a great place. We have the right course for you, let us introduce you to the most fascinating part of the underwater world. Our PADI certified scuba instructors will make you feel very relaxed and comfortable through out this unforgettable experience.
PADI e-learner
Start your online certification today, it saves you your vacation time and it's at your own convenient.
Your vacation time shouldn't be wasting studying for your certification test. All of PADI's online courses can be found at the PADI eLearning Center , and as low as $120 USD per course. Make sure you name Belize Diving Adventures, PADI Store #20920, in San Pedro, Ambergris Caye, Belize as the referral dive center for your certification dives.
e-learning cost is $330 per person plus tax
Discover Scuba Diving
Experience your first breath underwater. You'll watch a short video, learn a few skills in the pool and then dive at Hol Chan Marine Reserve accompanied by your instructor. A personalized certificate is given at the end of the course and credit is earned towards either Scuba Diver or Open Water Diver certification.
Depth 3ft- 30ft
Cost $150.00
Referral Diver Course
Bring along all your paper work from the initial instructor. It takes roughly two half days,2 dives each day. The first dive is on the leeward side of the barrier reef with very calm water. Second, third and fourth dives are usually done beyond the barrier reef that offer 35ft- 60ft dives. Complete all dive skills and enjoy the dives and you will received a Dive certification card.
Cost $275.00
Open Water Diver Course
Cover theory, skills development in the pool and 4 open water dives with skills practice and time to explore the underwater world under the supervision of your instructor. You'll receive a certification entitling you to dive to a maximum depth of 18m/ 60ft when accompanied by certify dive buddy or a dive leader.
Cost $400.00
Refresher Course
Includes a brief review of diving theory, practice of open water skills in the pool with an emphasis on safety, followed by a single open water dive supervised by your instructor or dive master.
Cost $100.00
Advanced Open Water
This course enhance a diver's diving skills; the diver must do these 2 dives: Deep and Navigation. it also includes 3 selected adventure dives from the following list:
*Fish identification
*Boat Diver
*Drift Diver
*Multi-level Diver
*Night Diver
*Peak performance buoyancy
* Underwater Naturalist
This course covers a short theory and the diver will receive certification entitling him to dive to a maximum depth of 30m/ 100ft, course take roughly about 2 days.
Cost $330 plus tax
* All rates are in US$ per person
* All prices are subject to 12.5% government tax