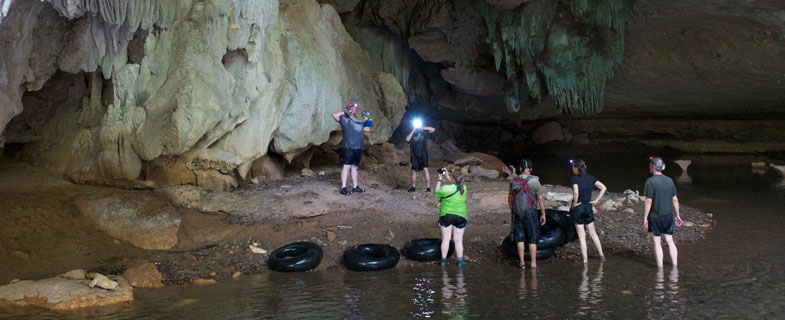 Belize Cave Tubing and Zip Line Tour is a first class high Adventure Trip for those who like adventure and the wilderness.
On your arrival you will be given a brief talk on safety and then outfitted in the safety equipment which includes a body harness, helmet and gloves. There is a short jungle hike to the platform and then you start your wild adventure. After the 6 platforms have been completed you will repel to the ground.
Your cave tubing adventure is next. You will hike for about 30 minutes through the Belize Rain Forest and through a couple dry caves until you come to the opening of the first cave. This is where the REAL fun begins as you will be assisted in getting into your inner tube to begin floating through the caves. It's a short but amazing journey of about 45 minutes to an hour.
Approximately 4 hours is required for this tour.
Tour includes – transportation, life vests, tubes and head lamps, tour guide, national park fees and refreshments.
Trip Price -$210.00 USUS